Jubilee Memorial hospital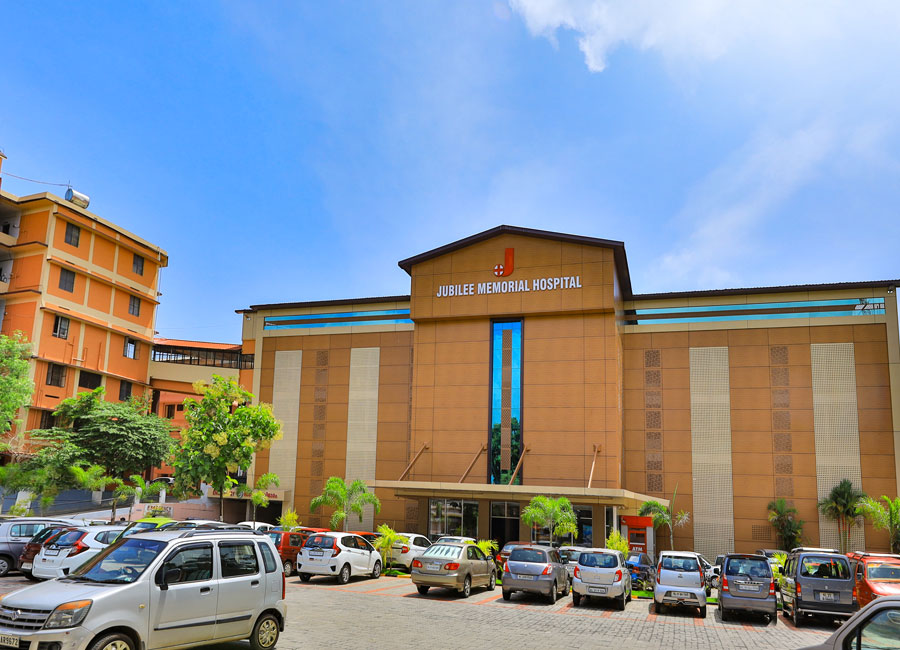 Jubilee Memorial Hospital, Palayam, Thiruvananthapuram, is the only Catholic Health Care Service provider in the capital city of Kerala, with a mission of Promotion of Life through Health Care with Love. At present it is a 200-bedded multi-specialty hospital giving affordable quality health care for all kinds of people from in and out of Trivandrum district. It is supported by six world wide standard Operation Theaters with support by all equipments, a cardiac catheterization laboratory and a full fledge health care team.
Jubilee features a Cardiac Catheterization Lab equipped with most modern facilities for diagnostic testing by cardiac catheterization, and coronary intervention with angioplasty. Also we have procedures such as Pacemaker Implantations. Patients in need of emergency coronary intervention have access to this service on a 24×7 basis. Cardiac diagnosis services such as TMT Stress Test and Holter monitors are well availed at our facility. Cardiac executive check up on Thursday, Friday, Saturday.
The Ortho & Sports medicine at Jubilee Hospital specializes in the non-surgical and surgical management of musculoskeletal injuries occurring as a result of Sports. The advanced surgical and rehabilitation facilities available at our hospital for Sports Medicine ensure that our patients return to their highest capabilities in the shortest possible time.
Jubilee treats varicose veins so as patents can get back on their feet quickly enjoying their daily activities. We provide Radio frequency Ablation which is a minimally invasive varicose vein treatment procedure that uses radio frequency energy to heat, collapse and seal off the targeted blood vessels. Bariatric surgery is yet another highlight. It is an operation on the stomach or intestines that helps patients with extreme obesity to lose weight. Our safe and proven surgical treatment in bariatric surgery brings it huge success.
Plastics and Cosmetic Surgery at our hospital focuses on alteration or restoring the form of the body. Our plastics surgery procedures include Reconstructive surgery, Crancofacial surgery, Hand surgery, Micro surgery, Treatment of burns. Cosmetic enhancement treatment, beyond being a way of aesthetic improvement, involves advanced and intricate procedures. Jubilee has a highly experienced specialist in cosmetic and plastic surgery and a patient centric ambience ensuring world class medical attention and care. Cosmetic surgeries we provide include breast augmentation, liposuction, abdominoplasty and naval surgery.
General Surgery department in our hospital is a surgical speciality focusing on abdominal contents including esophagus, stomach, small bowel, liver, pancreas, gall bladder, bite ducts and thyroid gland. Also it deals with diseases involving skin, breast, soft tissue, trauma, peripheral vascular surgery, hernia.
Apart from all these we also provide Casualty, Pharmacy, Medical laboratory, X-ray ECG, CT Scan and an ICU Ambulance service available round the clock. A friendly, homely and affordable hospital, efficient doctors are the highlight of our Hospital. Jubilee is a dynamic, future focused, private healthcare facility with high quality patient care. Patients in need of any such services feel free to approach us.